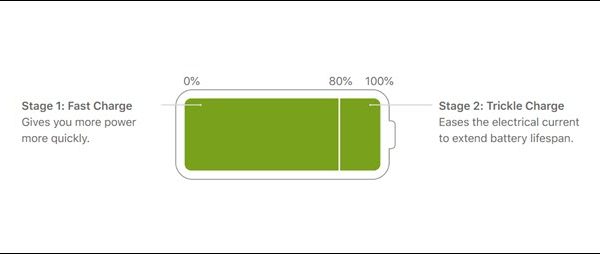 A typical smartphone charges up to 100% and then keeps the battery in that very high state (around 4.35 volts) until the user disconnects from the mains.
The battery is indeed protected from thermal runaway by its internal circuitry (it would catch fire otherwise), but the measures taken happen at extreme values, and are not optimized for a long and sustainable battery life.
Practically, it is best if you can keep the charge between 20% and 90%. If you do so, Chargie will apply the hysteresis you set, and the practice will yield much better results in the long run, from both a battery lifespan and daily usability perspective.
Ideally, the lower the daily charge, the better it is for the battery. However, you should take care not to overdischarge the battery either. For example, if you regularly go down to 1%, it's better if you set the top up level to 100% for the morning. Chargie will keep the base level at 60% and will only stay at 100% for a brief period of time.
By applying hysteretic charging, the risk of battery swelling and fires is greatly reduced (unless the battery itself has a physical defect). Google this.